Books and other resources donated
SDG 4 Quality Education
Quality Education is a Sustainable Development Goal that focuses on access to universal and equitable education for all. The UN aims to achieve this target of universal, free and equal access to primary and secondary education for all boys and girls by 2030, thus leading to a decade of action from 20020-2030 towards achieving this goal.
This target carries prominence due to the low completion rate and the disproportionate enrolment rate of girl students. Many existing schools lack necessary infrastructure from washrooms to books. Education is a tool for the social upward movement of downtrodden communities, and the medium to peace. Therefore it is important for all individuals to participate towards this goal and educate people to create a better society.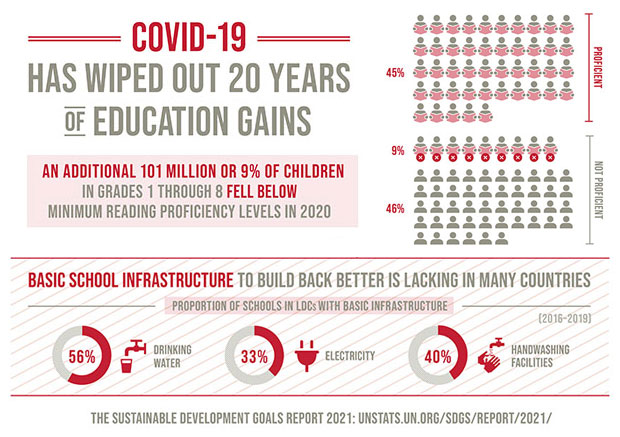 How to plan a book drive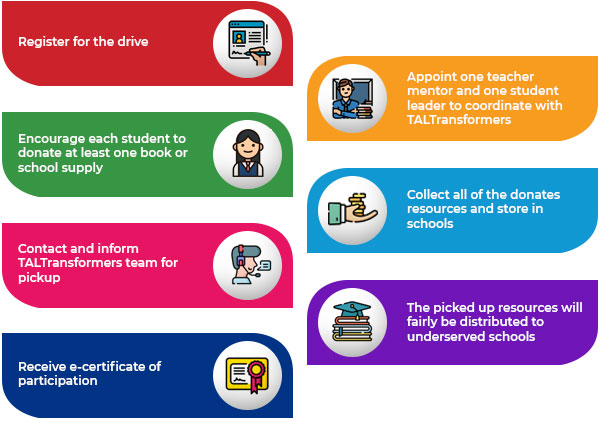 Touch-A-Life with your book- school to school
A Global book donation drive that aims to hold a direct school to school connection, and build a student to student empathy. The drive focuses on providing the underserved with necessary educational supplies in the form of notebooks, stationery supplies, books, mobile devices etc to enrich their learning and take the community a step forward towards gaining Quality Education. It calls for action from schools and students to proactively work towards collection of resources for the underserved students.
The underserved schools can be identified by the schools themselves in addition to those identified by TALTransformers and partner organizations. The donations can happen on digital platforms as well, ranging from audio notes of books and e-books for TAL digital library, to funds in TALGiving which will be directed towards providing resources to the schools. The pickup and drop of the resources is managed by TALTransformers.
For Instructions regarding the drive, go through the following resource Click Here
Social innovation Masterclass
(8PM – 9PM IST, 9:30AM – 10:30AM EST)
Social Innovation Theme:
Literacy for All- 9/1/2022
How Youth can transform Marginalized communities by spreading literacy
A Masterclass on introducing the Sustainable Development Goal- Quality Education and the Challenges it faces
Social Philanthropy:
Book Donation Drive- 16/1/2022
Bring your teams to join the drive to help the local underserved communities
A Tips on book drives and fundraising for the underserved
Social Entrepreneurship:
Book Donation App Hackathon- 23/1/2022
Create and develop your mobile app for social good
A class on app development and importance of digital means
Social Advocacy:
Voice for Literacy- 30/1/2022
Submit blogs, videos, virtual lessons and stories to promote quality education
Story-telling workshop
Awards and Recognitions
Recognition

Finalists will be featured on TALTransformers webpage as Touch-A-Life young social innovators.

Certificate

All participants will receive ISF TALTRANSFORMERS 2023 Certificate of Participation.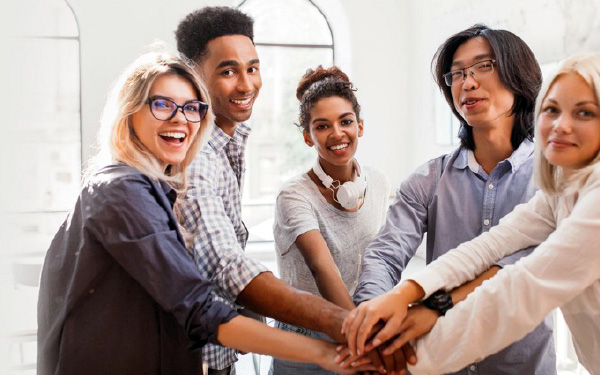 About TALTransformers
TALTransformers is a youth philanthropy and social entrepreneurship virtual accelerator program encouraging young leaders to solve real-world problems.
About Touch-A-Life Foundation
The Touch-A-Life Foundation is a non-profit organization connecting those in need, with those willing to give.